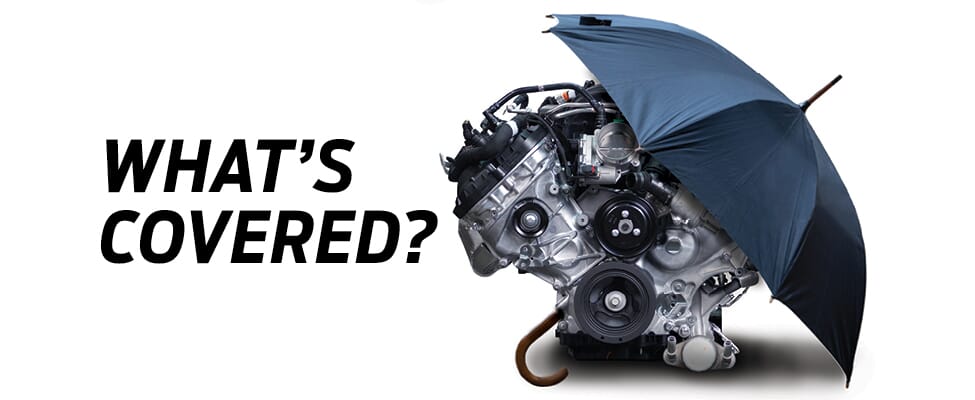 Engine

Transmission

Drive Axel

Engine Cooling System

Computer Diagnostics

4 Months or 4,000 Miles
Free Powertrain Warranty by Finn's Discount Auto
4 months or 4000 miles *exclusions apply.
TERMS OF LIMITED WARRANTY: This Limited Warranty begins on the vehicle sale date and expires when the time for the term has elapsed or the vehicle has travelled the allotted mileage, whichever occurs first. Maximum time from vehicle sale date 4 MONTHS. Maximum miles from odometer reading at time of sale 4,000 MILES. THIS LIMITED WARRANTY IS ISSUED TO THE VEHICLE BUYER LISTED ABOVE, HEREINAFTER REFERRED TO AS YOU. IT APPLIES ONLY TO THE VEHICLE DESCRIBED ABOVE, AND IT CANNOT BE TRANSFERRED TO ANY OTHER PERSON. ANY MODIFICATION, ALTERATION, OR CHANGE TO THE PREPRINTED TERMS AND CONDITIONS OF THIS LIMITED WARRANTY IS INVALID AND OF NO FORCE OR EFFECT. This Limited Warranty is not an insurance policy, it is a Limited Warranty given to you by the Selling Dealer. All obligations and liabilities for repairs covered by this Limited Warranty are those of the Warrantor. WHAT IS COVERED The following is a list of parts covered by this Limited Warranty. If a malfunction, defect, or failure occurs in a covered component listed below, the Selling Dealer will repair or replace the covered component, subject to the terms and conditions expressed herein. Replacement of any part may be made with parts of like kind and quality at the time of breakdown, including remanufactured or used parts.
COVERED COMPONENTS
ENGINE: All internally lubricated parts, camshaft and bearings, connecting rods and bearings, crankshafts and bearings, cylinder block, main bearings, distributor shaft, exhaust manifold, intake manifold, oil pump and gears pick-up screen, pistons, piston rings, wrist pins, timing chain and gears, timing belt, cylinder heads, exhaust valves, valve springs and retainers, push rods, rocker arms and shafts, hydraulic and soft lifters, factory installed superchargers or turbocharger units.
TRANSMISSION: All internally lubricated parts, case torque converter, lock-up converter, gears and shafts, bearings, bushings, bands, clutch plates, friction and steel drums, pump, servo unit, valve body and plate, governor.
DRIVE AXLE: All internally lubricated parts, drive axle housing, ring and pinion gears, spider gears, Side gears, Bearings, Bushings, Spacers, Yokes, Axle shafts, drive shafts, carrier bearing, universal joints, CV joints (provided the boots are not torn or damaged), (exclusions are CV joint boots, locking hubs, and wheel hubs).
ENGINE COOLING SYSTEM: Engine radiator, heater core, water pump, and cooling fan motor.
AUTHORIZATION IS REQUIRED PRIOR TO THE COMMENCEMENT OF ALL REPAIRS. IN THE EVENT OF A CLAIM, PLEASE CALL (915) 594-3911. Agreement
MAINTENANCE RESPONSIBILITIES If you fail to provide your vehicle with the manufacturer's recommended maintenance, such as oil changes and other periodic services, and if your failure causes a covered component to breakdown, this will result in loss of your protection under this Limited Warranty. Maintenance records from the vehicle sale date supported by receipts indicating dates, mileage, and the services performed must be kept during the term of the Limited Warranty and, in the event of a claim, made available to the Selling Dealer on request.
LIMIT OF LIABILITY The total of all benefits paid or payable shall not exceed $2,500.00, less applicable deductible.
WHAT IS NOT COVERED This Limited Warranty will cover only those items listed under "COVERED COMPONENTS" and does not cover the following: 1. Incidental or consequential damages or loss caused by breakdown of covered parts (or otherwise) including property damage, personal injury, inconvenience, or loss of vehicle use. 2. Damage to a covered part by a non-covered part and damage to a non-covered part by a covered part. 3. Vehicles used for commercial, rental, or delivery purposes. 4. Any vehicle that has had the manufacturer's warranty revoked, voided, or cancelled; or any vehicle that never came with a manufacturer's warranty. 5. Alterations that cause the vehicle to be out of compliance with the manufacturer's specification. 6. Repairs to parts of the vehicle not listed as covered. 7. The replacement or repair of any covered part that is within the allowable tolerances prescribed by its manufacturer or that is able to perform the function(s) for which it was designed. 8. Repairs beyond those required to correct the covered failure. 9. Repairs to components that have been modified or added to the vehicle after purchase, or any repairs on vehicles whose mileage has been altered or whose odometer has been tampered. 10. Breakdowns resulting from your failure to provide proper maintenance to the failed part or parts. 11. Breakdowns resulting from incorrect, contaminated, or inadequate amounts of fluid. 12. Breakdowns or defects from collision, abuse, negligence, overheating, improper load capacity, road conditions, fires, floods, riots, or any other losses normally covered by casualty insurance. 13. Alignments, fuel system cleaning, wheel balancing, any manufacturer's required maintenance, or the replacement of maintenance like items (e.g. spark plugs, PCV valves, filters, oil changes, belts, hoses, CV joints seals, brake linings, nuts, bolts, clips, fasteners, screws, and clutch linings). 14. Any Mechanical Breakdown covered by an insurance entity, the manufacturer's warranty or recall; or any component with a warranty or "repairer's guarantee" through a repair facility. 15. Repairs performed by someone other than a licensed repair facility. 16. Repairs made outside the contiguous United States or if the vehicle is registered outside the contiguous United States. 17. Towing costs.
WHAT TO DO IF MECHANICAL REPAIRS ARE NEEDED If your vehicle is within fifty (50) miles of the Selling Dealer, you must deliver your vehicle to the Selling Dealer at the address shown on the cover of this agreement for repairs. If you are outside 50 miles of the Selling Dealer, and it is not possible or not practical to deliver your vehicle to the Selling Dealer, call the Selling Dealer for instructions. CHANGE OF VEHICLE OWNERSHIP This Limited Warranty is non-transferable. OTHER IMPORTANT INFORMATION This Limited Warranty gives you specific legal rights, and you may also have other rights that vary from state to state. To the extent allowed by applicable law, any implied warranty of merchantability or fitness for a particular purpose applicable to the covered vehicle is limited in duration to the term of this Limited Warranty. As some states do not allow limitations on how long an implied warranty will last, or the exclusion or limitation of incidental or consequential damages, such limitations may not apply to you.